My wonderful friend Liz over at The Blue Eyed Owl has this fabulous linky every Thursday and it's all about thrifting. Seriously fabulous!!!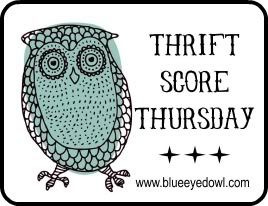 I haven't been thrifting as much as I have in the past. I use to go every weekend and I'd go to several places at a time. It was starting to be a waste of time though. Half of my day would be gone and I'd come home empty handed. But now… now that I don't go every weekend, I come home hands full when I do go!
Here's what I grabbed this past trip…
a gorgeous silver tray. a little weathered but nothing a little polish can't fix!
3 sets of pillowcases. I couldn't pass up any of them. They're too beautiful! One day I'll have a room just full of pillows. Nothing else.
You think I'm crazy… but me? I think it's a spectacular idea!
This sheet looks like it was possibly bleached at one time. The top hem gives that away. But the stripes still look amazing to me!
2 double sized sheets in one of my favorite prints ever! One's already started to get ripped up and making minor appearances in gck-1′s big dreams room :)
Already stripped down to their skeletons. The miniature had quite the face lift and has a new home already. Love it. Can't wait to show it to you!
I was so glad, I mean like I did a minor happy dance in Goodwill when I found this thing. Already painted Caribbean Blue and waiting to be hung up in the kiddos room. It's fantastic!
I honestly had no idea what I'd do with this. Or where it would go. Or if I even needed it but see that plastic on the top? That means it's never been used. And with a $4.99 price tag, I kinda sorta had to have it. It's already gotten a little makeover and I'm jealous of where it now belongs! (You'll see next week)
I saved the best for last. I've seen these on the world wide web in other crafty people's crafty rooms but never had I seen one in person.
$1.99
It was hiding behind dog toys and weird plastic forks. And it literally took me 20 minutes to arrange the thread in a way that didn't drive me crazy. OCD color coordinating can sometimes be the pits ;)
Tags: thrifting
6 Responses to "Thrift Score Thursday"